Interview of Michael Malitowski & Joanna Leunis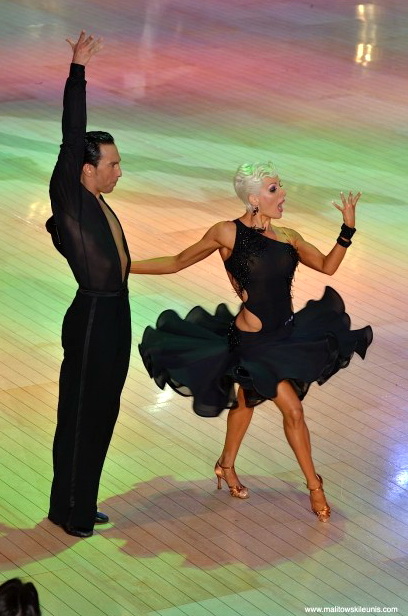 Michael Malitowski & Joanna Leunis:
World Champions
On Saturday 26 of November 2011, we met Michael Malitowski & Joanna Leunis, after the incredible dance show that they presented at Dimarhia 13. They talked to us about their lives and the dance.We should remind that the World Latin Professional Championships visited our country for the first time after Dora's Satolia invitation.Their three-day visit included high level dancing seminars and private tutoring.
The www.dancelatin.gr was the media sponsor of this great event.
Dear Michael, would you like to tell us which were the happiest moment of your dancing career so far?
Winning the first Blackpool youth championship with Iwona and winning the first International championship at the Royal Albert Hall with Joanna. 
When somebody watches you and Joanna dancing, understands immediately the unique chemistry and your internal communication, dealing with the dance.  We, we were delighted to meet you and discuss with you, discovered that your relationship as a dancing couple, is a very close one and you care about each other.  Do you believe that this perfect balance between you is easy or difficult to maintain?
Like in every relationship if you want it to work you need to manage it carefully, it will always have some ups and some down but you know inside when it is the real deal and when you are ready to do anything for it.  
We have read in an article we found in your website, a very interesting opinion of you.  You said the following "I love anyone else who fights, use the potential and does not give up. Ever! So every time you enter the dance floor, remember: Sky is the limit if you are the real street – fighter!"  On the occasion these words you said, we would like you to tell us, what are the features that should have an athlete, in order to be able to succeed in a dance competition the maximum of efficiency
Intention, attention and commitment.   A very nice quote which would summarize nicely what one needs to succeed I think! Of course some degrees of talent is needed but without hard work, determination and discipline one can forget it.
Michael, what is the most valuable advice you can give to a dancer?
Work hard, believe in yourself and stay true to who you are.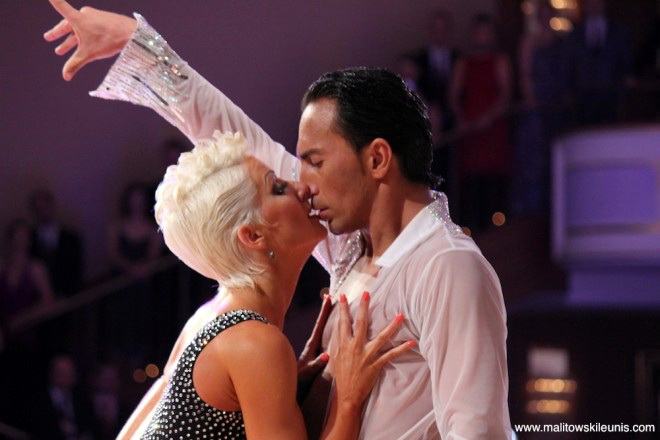 Dear Joanna, you two deserved to hold the title of World Champions in Professional Latin.  Have you sacrificed pleasures from your personal life, to manage to reach here and be able to support this title?
Thank you. Yes we have always and are always working very hard for every championship we take part in. It has never felt or never feels like a sacrifice because We love what we do it is our passion, it is a wonderful life style to be able to what you love to do, being successful and making a living from it, one could not ask for better!
Of course it is not easy to get where we are but we consider ourselves very lucky and are grateful for our position. We know that only hard work pays off and so we don't take anything for granted.
We still feel that we have a lot to look for and are very excited to carry on improving as well enjoying the ride.  
You are a dancing couple that characterizes the absolute control of each movement of the body.  What do you think should have a dancer in order to succeed to have such a unique result?
I would be open to other forms of dances, ballet work especially for the balance the posture the core strength the legs and feet strength....contemporary, modern jazz for the coordination and freedom of movement...hip hop for up to date moves...some partnering courses like for example contact improvisation would be very useful to create new choreographies. By doing other forms your body experience a very versatile range of movement and what is so great about our style is that we can easily incorporate these different ideas to our style. So basically i think a dancer should have a strong technique, a very agile body with good stamina and should be able to do as many forms of dances as possible that would be ideal I think.  
The show that you both have presented  in Athens was unique!  All of us, who had the honour to see you dance up close, we felt the incredible energy, which fill the entire room!  How important is for you to communicate with the audience watching you and whether you draw energy and strength from it?
Thank you we appreciate that. It is very important for us, seeing and hearing people's reaction is most treasurable and in fact especially for me it is one of the most important things, to touch and reach people through our dancing is better than winning! Of course the best is to have both....the cup and the reaction....hahaha
We would like to thank you very much for your time. Meeting you was really a great honor. We wish you only the best in your personal lives as well as your professional careers!
Thank you very much.
We really enjoyed our trip to Greece, we got to know very kind and warm people and received a wonderful welcome from the audience which made our trip very memorable.
All our best wishes with your website.
Regards Michael and Joanna.
.